Enjoy a comfortable menopause. Download expert content for just £77
Now is the chance to listen comfortably in your own home to our recent event on How to Manage the Menopause Naturally.
Dr Marilyn Glenville and Patrick Holford, two well-known experts in the nutrition world, came together to share their knowledge and practical advice on the menopause which you can video stream and watch at your leisure.
This is what you will get from access to the videos:
Patrick Holford

How To Lose Weight And Gain Energy In The Menopause
Find out how to lose the weight that creeps on at the menopause
Lift your mood by knowing what to eat.
Get your blood sugar back under control
What do GI (Glycaemic Index) and GL (Glycaemic Load) mean – it is so important to know the difference?
What nutrients help balance your blood sugar?
Reduce the stress in your life by how you eat and increase your enjoyment of life.
Dr Marilyn Glenville PhD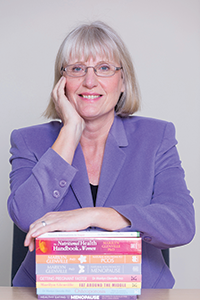 Natural Solutions To The Menopause And Prevention Of Osteoporosis
Find out how to boost your energy, improve health, eliminate night sweats and hot flushes, mood swings, aching joints and increase your sex drive.
Is soya good or bad?
Find out the truth about 'natural' bioidentical hormones like progesterone.
What to eat to prevent osteoporosis?
The best herbs for this stage in your life?
What nutrients are important including vitamin D and omega 3?
What are the important tests you should be having at this stage in order for your live the next 30-50 years with good health, mentally and physically?
DNAfit 

Understanding How Your DNA Affects Your Health And Lifestyle Choices
Find out how knowing your genetic make-up can help you make the right food and lifestyle choices going through the menopause
Discover the wonderful new world of epigenetics, where we now know that our genes are not fixed but they can be switched on or off depending on how we eat and live our lives.
Your genes can show you your ideal way to eat, either for weight loss or to keep yourself healthy past the menopause.
For some people, depending on their genes, just 2 cups of coffee a day increases their risk of a heart attack.
Do you have a greater need for certain nutrients because of your underlying genetic make-up?
Your genes can show you how well you detoxify, your risk of lactose intolerance, coeliac predisposition, alcohol response.
The type of exercise that suits your genetic make-up which is important for your general health but also for prevention of osteoporosis.
This talk also covers the research into how our genes can show how we respond to stress – are you a 'warrior' or a 'worrier'?
Get the whole day of talks today for just £77  
Click on the link below to access the videos