This Special Offer Expires In:
THE SLIMPLICITY PROGRAMME

Your Proven Plan to Finally Lose Fat Around The Middle and Regain Your Health For Good!
It's Time To Change Your Shape And Transform Your Health With Dr Marilyn Glenville's
A Note From Dr Marilyn Glenville PhD
For over 30 years I have worked with hundreds of people just like you. People who had reached the end of their tether, so frustrated at their seeming inability to lose fat around the middle which not only does not look good but is harmful for your health. Following my proven system gave them an easy practical solution, a new approach to eating - and living - that is nurturing, supportive - and effective.
Fat around your middle is not just a cosmetic issue, it increases your risk of type 2 diabetes, heart disease, high blood pressure, cancer (especially breast cancer) and Alzheimer's.
Right now, you have an opportunity to make a powerful decision and I hope I've helped make this easy for you!
I understand, making the decision to embark on a life-changing endeavour is never easy. Your mind may get filled with doubts, fears, and considerations about whether it will work for you, whether it's what you actually need, or whether it's the right time for you.
The purpose of this page is to give you clarity. My goal is NOT to get as many people into my SLIMPLICITY Programme as possible but rather to help the "right people" get the support and guidance they need.
Please read through and consider what it would mean to make this change for yourself. I hope you'll join me as I guide you through the SLIMPLICITY Programme to change your shape and transform your health for good!
The SLIMPLICITY Programme is an enhanced online version of my proven system taught around the world.
What My Happy Customers Have To Say
The SLIMPLICITY Programme Weekly Sessions
Five Days of Preliminary Preparation Before The Start of Your SLIMPLICITY Programme
No-one is more invested in your success than I am, so you'll start getting my support even before the Programme begins. To make sure you're on track, starting on day one, you'll receive five days of training, activities, top tips and advice that will build the launch pad for achieving your goals.
Find Your Waist-to-Hip Ratio
In this kick start session you will learn how to find your waist to hip ratio accurately. (There is actually a technique!) This will be your first benchmark for your SLIMPLICITY Programme. You'll also be introduced to the importance of keeping a journal and a food diary.
Get Stocked Up And Ready To Go
First, earmark a couple of shelves or a cupboard exclusively for you – and any of your family members who might be joining you on the SLIMPLICITY Programme. Then, in this session, you will get a whole host of pointers about what to lose, what to keep, and what to stock up on so you are ready and raring to go when the Programme starts.
How To Eat Mindfully
How much attention do you really pay to what you eat?  How often do you eat on the run?  At the computer?  In the car?  In front of the telly?  Did you know that you will feel fuller if you actually pay attention to what you eat and how you eat it?  In today's module we'll talk about how eating "mindfully" can help you on your inch and weight loss journey.
Why Omega 3s Are Essential
Do you ever have dry, lifeless hair, fragile fingernails, painful joints and/or arthritis, cracked or dry skin, depression, mood swings, poor wound healing, lack of motivation, fatigue… or difficulty losing weight? If so, you could have an Omega 3 essential fatty acid deficiency. Today I will tell you why essential fats are just that.
Get Moving
Exercise doesn't have to be a painful chore! What beats a brisk walk in nature, or a jog around the park to release all those "feel-good" hormones (which also help weight loss, by the way.) Today I will talk about which exercises you can do that specifically target body reshaping and especially that stubborn fat around the middle.
Kick Start Bonus Week starts on Monday, 18th of September, 2017.
WEEK 1: How To Prepare The Foundations For Success
Preparation really is the key to success.  Lay firm foundations and be amazed at how much easier and less stressful it is to achieve your objectives.  You really can't go wrong when you follow my simple, step-by-step guides to getting started on your exciting journey to your dream figure.
In your first session:
You will learn some of the simple secrets of why fat goes on around the middle of your body and how to change your shape for good.
You will set your own personal goals with the SLIMPLICITY team supporting and encouraging you all the way to a new you.
WEEK 2: How To Beat Blood Sugar Imbalance
Balance blood sugar for optimum health and weight loss! Blood sugar imbalance is very common. It can affect anyone, even people who aren't overweight. It's the cause of so many problems, in particular Type 2 diabetes and, of course, an absolute inability to burn fat, especially from around the middle. It's vital that you learn how to overcome this obstacle.
In this second session:
You will get all the tools you need to overcome blood sugar imbalance.
Once this challenge is addressed not only will weight loss be easier but you will feel so much healthier as well.
WEEK 3: How To Exercise Your Right To A Fabulous Body
Does exercise really help you to lose weight and inches? This week, we'll look at the evidence.
In your third session:
You will learn what types of exercise really work to help you trim down and tone up - and which don't.
We bust a few fitness myths and give you a gentle introduction to some workouts, with and without weights.
We'll also look at just how much exercise you'll need to do to burn off that blueberry muffin!
And as other weeks you'll have a great new menu planner and muscle-building recipes for strength and health.
WEEK 4: How To Unlock The Secret Of Fat-Busting Nutrients
Did you know that certain vitamins, minerals and other nutrients can actually improve your weight loss efforts? They really can. OK, we all wish it would be as simple to lose weight as popping a pill - it's not.
In your fourth session:
You will discover the secret of just how the supplements you've been taking since the beginning of the Programme can support your goals to lose weight.
You will also learn how they can help you build muscle and balance blood sugar.
You are supposed to be able to enjoy each meal, guilt free! You'll learn why skipping meals is an absolute no-no on the SLIMPLICITY Programme, and understand that every delicious mouthful is another step forward to reaching your inch and weight loss objectives.
In your fifth session:
You will also learn how much is too much - or too little - when you are measuring portion size.
Plus you'll get another new meal planner, recipes, and lots more tips... including how to make healthy choices when you're eating out.
WEEK 6: How To Become A Healthy Food Detective
Sugars, fats, saturates, fibre…. what does it all mean to your waistline? Unravel the mysteries of food labelling and become your own health food detective!
In your sixth session:
You will learn how to decode even the trickiest food label. (And many of them are tricky for a reason!) Think non-fat yogurt is a healthy option when trying to lose weight? Think again.
You'll see the truth of popular brands and how they contain whopping grams of sugar and carbs per serving. Don't be fooled - decode!
WEEK 7: Get The Skinny On Fats! The Good, Bad And Ugly
It seems as though the media changes its mind about fat's good guys and bad guys almost every day. This module will help you understand that 'fat' is not necessarily 'fattening'.
In your seventh session:
You will learn which fats are essential, and the impact a no-fat diet can have on your health.
Once you understand which fats make you fat and which help you slim, you'll have only the good ones in your store cupboard.
WEEK 8: Overcoming Barriers To Change
If change was easy, we'd all be perfect, wouldn't we? But let's be real here… change can be a challenge - especially changing habitual behaviours. The focus of this module is to help you become more aware of what stops you making changes in your life - in this case both dietary and exercise changes.
In your eighth session:
You will discover how you can ensure lasting success by recognising and eliminating barriers to change.
You will be encouraged to ask for help and support from your friends, family and us, of course, whether you think you need it or not!
WEEK 9: How To Make The Right Food Choices
One way you can be assured of always making the right food choice is making sure that your store cupboard is stocked and stacked with essentials. This week, you will receive a comprehensive list of goodies that you can reach for instantly to make a healthy, nutritious and waist-shaping meal.
In your ninth session:
We will also discuss artificial sweeteners in more detail, and which natural sweeteners to choose, with continued emphasis on minimising/eliminating sugar.
You will get another chance to revisit those barriers to change and your plans to tackle them.
You will receive more fabulous, yummy yet simple recipes make it a pleasure to dine in.
And if you dine out look for our top tips on alternative treats to keep you on course for success.
This module is all about planning and organisation, so that lack of it is not a stumbling block to making healthier meal choices. It is to share tips on meal planning - and you will be asked to create and post your own meal plan for us all to share. It will also cover 'use by' versus 'best before' dates. By now, you should be a dab hand at choosing the right ingredients for your meals, so...
In your tenth session:
I'll ask you to list your own store cupboard essentials.
And you'll share your favourite brands, top tips, recipes, snacks and anything else you have learned that you've found really useful.
WEEK 11: Dealing With Stress
Some stress is part of our daily lives, but too much stress - that's a killer. For our purposes, when your stress level is too high, it seriously messes with your blood sugar levels, and by now you know that that is not a good thing. This segment is vitally important.
In your next-to-last session:
You will understand how stress can damage your health and also leads to weight gain.
We will take a look at how stressed you are and what diet and lifestyle changes you can make to stay calm and relax.
WEEK 12: Staying On Track With Mindful Eating
When you take meals at your desk, on the go, looking at your phone, or in front of the television, there's no mindfulness involved.  There's no appreciating how the meal looks, how it tastes, its textures… When you use all of your senses to savour and enjoy your food, it becomes far more satisfying and pleasurable. What's more, you know that you have eaten, so you are less likely to be hungry again before it's time for your next meal.
In your final session:
I will give youstrategies for mindful eating.
And also give you the keys to help you stay on track.
You Can Be Successful Too...
The Elements of the SLIMPLICITY Programme
No-one is more invested in your success than we are, so you'll start getting our support even before SLIMPLICITY begins. To make sure you're on track, before the actual programme begins, you'll receive five days of preparation, activities, top tips and advice that will build the launch pad for achieving your goals.
12 Weeks In-Depth Video Teaching With Dr Marilyn Glenville PhD
Isn't video a modern-day blessing?  So many of Dr Glenville's patients say that watching a video is their preferred learning method. That's why, for 12 weeks, Dr. Marilyn Glenville PhD will present a different weekly topic that will expand on what's presented in your workbooks (especially for those who prefer reading to viewing!).
Subjects covered include everything listed in the weekly descriptions and more!
12 Weekly Step-By-Step Workbooks
Each of these value-packed, handy pdf reference guides include:
Your daily action plan. Tick off each item as you take a step nearer to your ultimate goal.
Recipes. But not just any recipes! These are, without exception, easy to follow, quick to make and above all, mouth-wateringly tasty and nutritious!
Meal planners. Never be caught without a meal idea again with these inspirational ideas for breakfast, lunch, dinner and snacks.
Food brand guide. Essential for choosing the right foods with no sneaky added sugars!
Exercise routines. Simple instructions in words and pictures to make exercising a cinch!
Progress tracker. Monitor your inch and weight loss.
Slides. Exact slides taken from each of Marilyn's videos for easy download and reference.
Secret Facebook Support Community
Support is at hand, 24/7!  When you join SLIMPLICITY, you will receive joining instructions for instant access to our Secret Facebook Group. Members include our team of expert nutritionists as well as your fellow travellers on this exciting journey. This is your space to share your experiences, your ups, your downs, what works, what doesn't and, most importantly, to ask for help when you're not feeling strong and to lend a hand when you are.
Best-Selling Book "Fat Around The Middle"
You will receive your very own copy of Marilyn's international best-seller "Fat Around the Middle – how to lose that bulge for good".  Many thousands of readers worldwide have adopted this book as their very own weight and inch loss bible. Not only is it packed full with sound, scientific research that explains, in layman's terms, just why fat around the middle is such a major health threat, but it also contains a wealth of incredibly helpful information, tips and techniques for losing that bulge for good.
**SLIMPLICITY Bonus Collection**
Yes! There's even more...When you join The SLIMPLICITY Programme you will also receive...
Special Myotape Body Measure. It is vital that you do not miss this first part of the SLIMPLICITY Programme! Accurate measurements of your vital statistics, and waist to hip ratio will be your benchmark for the next few weeks. You will be so glad you took the measurements when you look back at them at the end of the Programme!
"Natural Alternatives to Sugar" e-book. An invaluable guide to giving up sugar without losing sweetness.
"Lose Your Belly" Supplement Programme. A full month's supply of NHP's unique formulations including:
- Omega 3 Support, premium quality fish oil rich in EPA and DHA
- Amino Support, a special blend of 8 specific amino acids scientifically proven to help reduce fat from around your waist
- Nutri Support, a unique multivitamin and mineral formulation that works synergistically with Amino Support to help shape your waist
- Vitamin C Support, rich in bioflavonoids, with magnesium and bilberry extract
Another Reason Why You Should Enrol Now
Try Out SLIMPLICITY 100% Risk Free
Sign up with confidence, backed by our 30-day money back guarantee!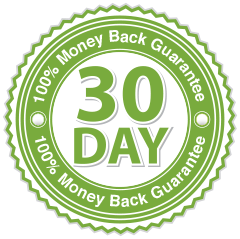 We believe wholeheartedly that you will achieve positive results when you follow the SLIMPLICITY Programme as directed so we are going to take 100% of the risk! If at any time during your first 30 days of the Programme you're not satisfied, we'll refund your money.  
It's as simple as that.
The SLIMPLICITY Programme - Sign Up Now
ONLY £297

2 instalment option available
12 Weeks In-Depth Video Lessons with Dr Marilyn Glenville PhD
(value: £597)
12 Weekly Step-by-Step Workbooks
(value: £135)
Secret Facebook Support Community!
(value: £97)
Best-selling Book "Fat Around The Middle"
(value: £10.99)
Kick Start Bonus Week
(value: £197)
Bonus #1  Special Myotape Body Measure
(value: £7)
Bonus #2  "Natural Alternatives to Sugar" E-book
(value: £7.77)
Bonus #3  A Full Month's Supply - "Lose Your Belly" Supplement Programme
(value: £110)
Total Value: 
£1162



Regular Price: £547

 - LAUNCH PRICE ONLY £297 -

You Save: £865
Frequently Asked Questions And Answers
If you are ready to change your shape and transform your life for good like many, many others have done by following this Programme then read through these questions and use the answers to guide you forward.
How do I know if I'm ready to finally change my shape and transform my health?
+
You're the only one who can answer that, but consider…. Have you tried a variety of ways to lose weight and change your shape but failed? Have you spent lots of money on fad diets, books, keep fit videos, slimming club, meal replacements and so on, only to throw them away unused, or have them gathering dust and making you feel guilty? Is your health suffering because of your diet and lifestyle? Are your relationships affected by your lack of self-esteem or the way you feel about your body? Do you have a wardrobe of clothes that you won't throw away because one day, maybe one day, you will fit into them again? Finally, do you want all this to stop? For good? Do you need to suffer some more, or are you ready to throw off the shackles that have been keeping you down and take the steps to create a new and exciting life?
Who are you Dr Marilyn Glenville and why should I do this with you?
+
Well, I've been a nutritionist in clinical practice for over 35 years. My specialism is women's health and I have written 14 international best-selling books on the subject, selling over 1 million copies worldwide and translated into over 20 languages. I am the former President of the Food and Health Forum at the Royal Society of Medicine, I give regular talks on radio and TV and am featured frequently in the national press. I run a number of clinics in Harley Street, London, Tunbridge Wells, Kent and Ireland with my team of highly qualified nutritionists. My internationally best-selling book, "Fat Around the Middle - how to lose that bulge for good" has helped countless women (and men!) to change their shape and transform their health, and forms the basis of the SLIMPLICITY Programme.
What if I've already lost weight? Should I still do this?
+
If you've lost weight and are happy, I suggest you wouldn't be reading this. Maybe you've lost weight but still have that stubborn fat around the middle? Or you're still fighting cravings and not sure how much longer you can hang on? Maybe you've lost weight but you're unhappy or experiencing mood swings? Or you're just not feeling as healthy and energetic as you should be?
If any of these apply to you then yes, this Programme can definitely help.
When does the SLIMPLICITY Programme start?
+
You have until midnight of Saturday 16th September to register for the SLIMPLICITY Programme. Kick Start Week begins on Monday, 18th September and the Programme itself begins on Monday, 25th September.
The Programme access details and schedule will be emailed immediately when you enrol.
Is there a guarantee?
+
We believe wholeheartedly that you will achieve positive results when you follow the SLIMPLICITY Programme as directed so we will take 100% of the risk! If at any time you're not satisfied within your first 30 days of the Programme, we'll refund your money. Simple as that.
See also Terms & Conditions.
How much time will I need to invest every week in this course?
+
Outside of the webinars and live calls (for ELITE Coaching Programme members only), you'll spend time day planning and preparing your meals and addressing your exercise programme. The more time you spend on the new you, the better! And of course remember that when you're clear on what you're doing, this is an amazingly fun and enjoyable process that will excite and delight you to no end.
What's the return on my investment?
+
Of course, there's no way to put a monetary value on what this Programme can deliver... A new shape, loss of weight, recovery of health and happiness… We can't make any promises as each person is different. That said, the approach to inch and weight loss that is the foundation of the SLIMPLICITY Programme has helped countless people worldwide to achieve their goals - which are your goals, too. Will it require some work? Definitely. Will we walk you step-­by­-step through every element to make it as easy as possible for you? Definitely. So if you can commit to going through the programme with integrity, your return should be substantial and we hope it will give you a new lease of life for years to come.
In addition, you'll save £££s on weight loss schemes that don't work; diet food that doesn't help you lose weight; strange supplements making promises that they can't keep; not to mention how much it would cost you if you succumbed to type 2 diabetes or other weight/blood sugar related diseases.
FAQ about the supplements...
+
Why does the SLIMPLICITY Programme recommend Natural Health Practice (NHP's) supplements?
First and foremost, the supplements in the SLIMPLICITY Programme have been designed and formulated specifically by Dr Marilyn Glenville PhD to address health, wellbeing, and loss of fat around the middle. They contain only the highest quality, most bioavailable forms of nutrients and do not contain any kind of additives, preservative or colours.
How long do I have to use Natural Health Practice supplements before I see results?
It's very important to give the supplements their best chance to work by taking them for a minimum of 90 days and, in the case of the "Lose Your Belly" supplements, they will work the best when you follow the SLIMPLICITY Change Your Shape and Transform Your Health Programme. Use the supplements consistently and as directed for the best results. Some participants who have followed this programme have started to see changes in their energy and wellbeing after one week.
Do I have to continue taking the supplements once I have reached my objectives?
You can safely take the supplements as long as needed to achieve your goals and then continue with a maintenance programme. If you decide to stop taking any of them then it is even more important that you continue with your positive lifestyle habits that you have learned on the Programme.
Is it OK to take all of the supplements recommended by the Programme at the same time?
Absolutely! They are designed to work synergistically together to produce the most optimal and efficient results. However, it's important not to mix them with supplements from other companies.
Can anyone over the age of 18 take these supplements?
If you are taking any medication, especially steroids, you should consult your doctor before taking them. They are also not suitable if you are planning a pregnancy, pregnant or breastfeeding.
What if the products don't work for me?
As part of our guarantee, you can return any unopened bottles of supplements for a full refund.
All payments are processed securely on our SSL encrypted site. If you have any questions, contact support@glenvillenutrition.com.